CB-1 Weight Gainer
Patent Pending Weight Gain Formula1
Tested Ingredients
Step-by-Step Weight Gain Program
Made in the USA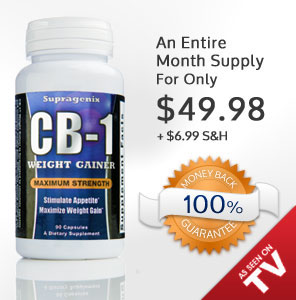 What is CB-1 Weight Gainer?
CB-1® Weight Gainer is a natural weight gain pill. CB-1® was designed for people who struggle to put on weight and suffer from a fast metabolism or weak appetite.
A Complete Weight Gain Program
Every order includes the CB-1® Weight Gain Guidebook. This exclusive guide covers everything you need to know about reaching and maintaining your weight gain goal, from calories and supplements, to nutrition and exercise.
Tested Ingredients
CB-1® Weight Gainer undergoes extraction and testing by an independent third-party laboratory, ensuring that every batch contains the most pure and potent ingredients.
Safe & Natural
CB-1® Weight Gainer is a blend of natural herbs, vitamins, and minerals. It contains no drugs or other harmful ingredients. CB-1® Weight Gainer is safe and natural.

Secure Order Form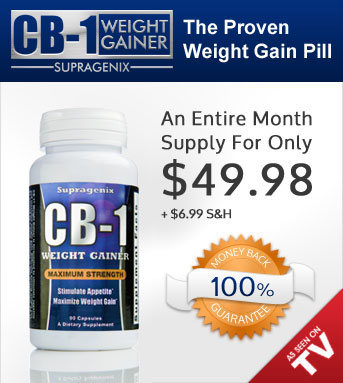 These statements have not been evaluated by the Food and Drug Administration (FDA). This product is not intended to diagnose, treat, cure or prevent any disease. Consult physician before using. Read and follow label directions.
*Results featured may not be typical. Weight gain results depend on a variety of factors and are not guaranteed. Individual results vary.
Patent Application No. 14/026,934